Online To IRL
Last week was a delight.
I don't have an editor for this personal blog and Ryan doesn't want more email concerning my typos. So, please send those notes to henry@techcrunch.com.
I'm going to (hopefully) get off the Internet later today to stand around and talk to people for about 1.5 weeks. But before I try "not tweeting" and "conversation" I wanted to share a picture from last week that means a lot to me.
Here it is: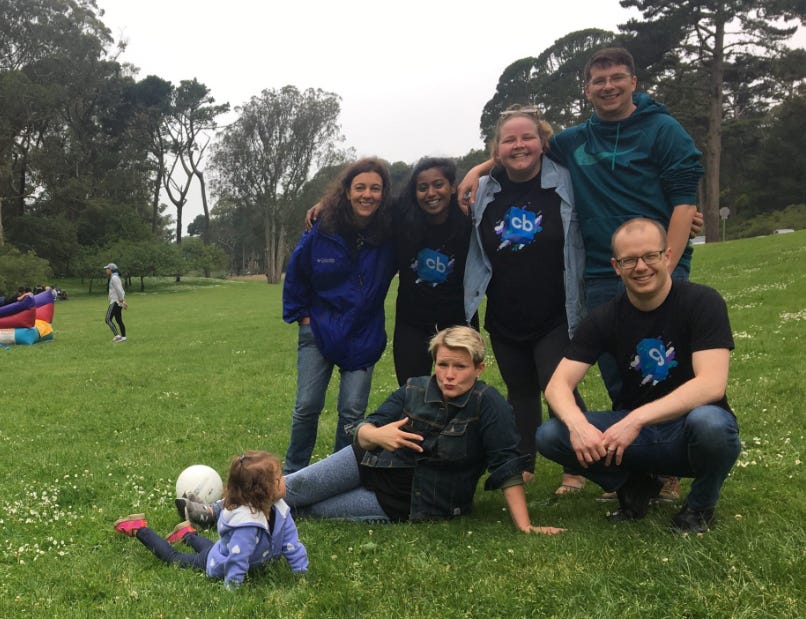 6/8ths of the News team, plus a child and a volleyball.
I'm part of the Crunchbase News team, an upstart newsroom focused on private companies. That's a fancy way of saying that we're a new-ish blog, punching above our weight, focused on my favorite niche. Essentially I get paid to write and edit coverage concerning the crossing of new tech and fast money. It's great.
But the crew is largely remote. Hell, I'm 50 percent out of office. This means that I spend lots of time working with the above group, but vanishingly little with some them in the flesh.
The remote situation is good and bad. The good is that Crunchbase News gets to hire the people it wants to, regardless of where they pay rent. But the bad is that I don't always get to hang out with the people I love.
That's why the above snapshot matters so much to me. I spend lots of time with Savannah and Natasha in the SF office. But I spend effectively no time with Joanna or Holden or Jason and Mary Ann outside of Slack and Zoom. And I had never met Jenna offline before last week.
But we got some of us together last week in San Francisco, and it was fun as hell.
We didn't manage a full quorum — Jason and Mary Ann couldn't make it out for the Crunchbase picnic — but the embedded snap shows I think our biggest-ever offline meet up. It was special and I'm still laughing at our attempt to play sports.
I can't wait to do it again next year.
—
K, that's enough for now. No more posts here or on Crunchbase News until after the wedding. (See some of you so soon! Text me when you get to Providence!)