Saying Goodbye To 410 Townsend
In which I confess love for an inanimate object.
I'm a sentimental bastard and I refuse to feel bad about. So, let's talk about a building that I love.
410 Townsend is a place where, until quite recently, I've had a relationship with in one way or another since I can recall. It's in San Francisco, inside the city's SoMa neighborhood. It's near nothing aside from the train, the Creamery, Marlowe, and Bar Basic.
I've spent inordinate amounts of time at all of those places since I was 20 or so, because 410 kept dragging me back into its orbit.
History
When I was young, I drank whiskey on the roof of 410 with some friends who worked at Yammer. I actually fact-checked my memory on that one, but the Wall Street Journal confirms Yammer's office address.
410's roof is a good place. It was never maintained, per se, but there was a place where you could stand and drink and smoke and that was pretty much all that we wanted to do, so it was perfect.
You can watch Caltrain come and go from the top of 410. And see the highway wind its way into the guts of San Francisco. All the comings and goings, frozen in light as you watch from a building that felt like home.
Later on a friend of mine who worked at Ustream invited me to a party at 410. That was probably the first tech party I ever attended in San Francisco. I was what, 20, 21? Something like that. Young enough to find an office party at a tech company exciting.
Then I wound up in 410 Townsend when Evelyn Rusli, then of TechCrunch TV, showed me around her office. If my memory serves, that was the first day that I met my future boss, Alexia Tsotsis. (She later interviewed me for writing gig at TechCrunch inside of the building.)
But I got the job and started working out of 410 as part of the TechCrunch team. I sat next to Ryan Lawler. I got to know Cat Zakrzewski. I became friends with Henry and Yashad and Joey and Neesha and Lynley and Katie and Sarah and, well, a lot of people.
Then the drinking got to be a bit much, and I wound up outside the arms of 410 Townsend for a year. 2016.
But never-you-worry, I was right back in the building when I joined Crunchbase in early 2017. At that time Crunchbase was a far smaller company. We shared space with Engadget and some AOL effort that got shuttered.
During 2017 I also got to take part in starting the Equity podcast. That was great, and since TechCrunch was literally downstairs inside 410, commuting to take part on the show involved an elevator ride.
Then Crunchbase outgrew its slice of the building, and in late 2017 we moved to our new home. But I was still hanging out at 410 because every Thursday I'd make my way back to chat with, at various times, Roof and Matthew and Connie and Kate and Hank and Chris to do another taping.
The End
Until, that is, a few weeks ago. I took part in my very last Equity taping inside of 410 Townsend in mid-May. That was it, really.
TechCrunch moved, and I just got back from recording our first-ever Equity show with the whole crew in their new studio. It was fun. It's out in the morning.
What a fucking long time to be in a single building. There's too much to bring up, but we did have a picnic on the roof once that Andrew put together. And Nico and I rolled a keg back downstairs afterwards. Then we tried to re-tap it before it settled. So we essentially created a beer volcano in the kitchen, sending booze flying into the events team area of the office. (Never annoy the people who make all the money.)
Sorry about that. And there's the video studio in there where Felicia and I and Yashad and Joe and the rest of the video team put together Bullish, a weekly show we had for a while. And the room where I first interviewed, which turned into the room where I interviewed endless ranks of other people for stories. And the room that I turned into a hidden bar. So many good times, and, frankly, a lot of bad ones too.
But I since I was just getting out of college I've had business at 410 Townsend. I noticed the changes in its decoration, and watched San Francisco turn its front stoop from a sidewalk into a bike sharing station into a protected lane and a bike station.
I've wound up helping drunk Beyonce fans figure out where they were that night when Bey was in town. The pair worked for Adobe, a tenant, but their phone died, and they couldn't get into the show. That was a weird night. And on and on and on.
It's just a building. But it's one that I've walked into and out and back into and away from only to wind up back again, again. So, goodbye 410 Townsend. Someday I want to come back.
Some Pictures
Here's a shot that Kate took of TechCrunch packing up: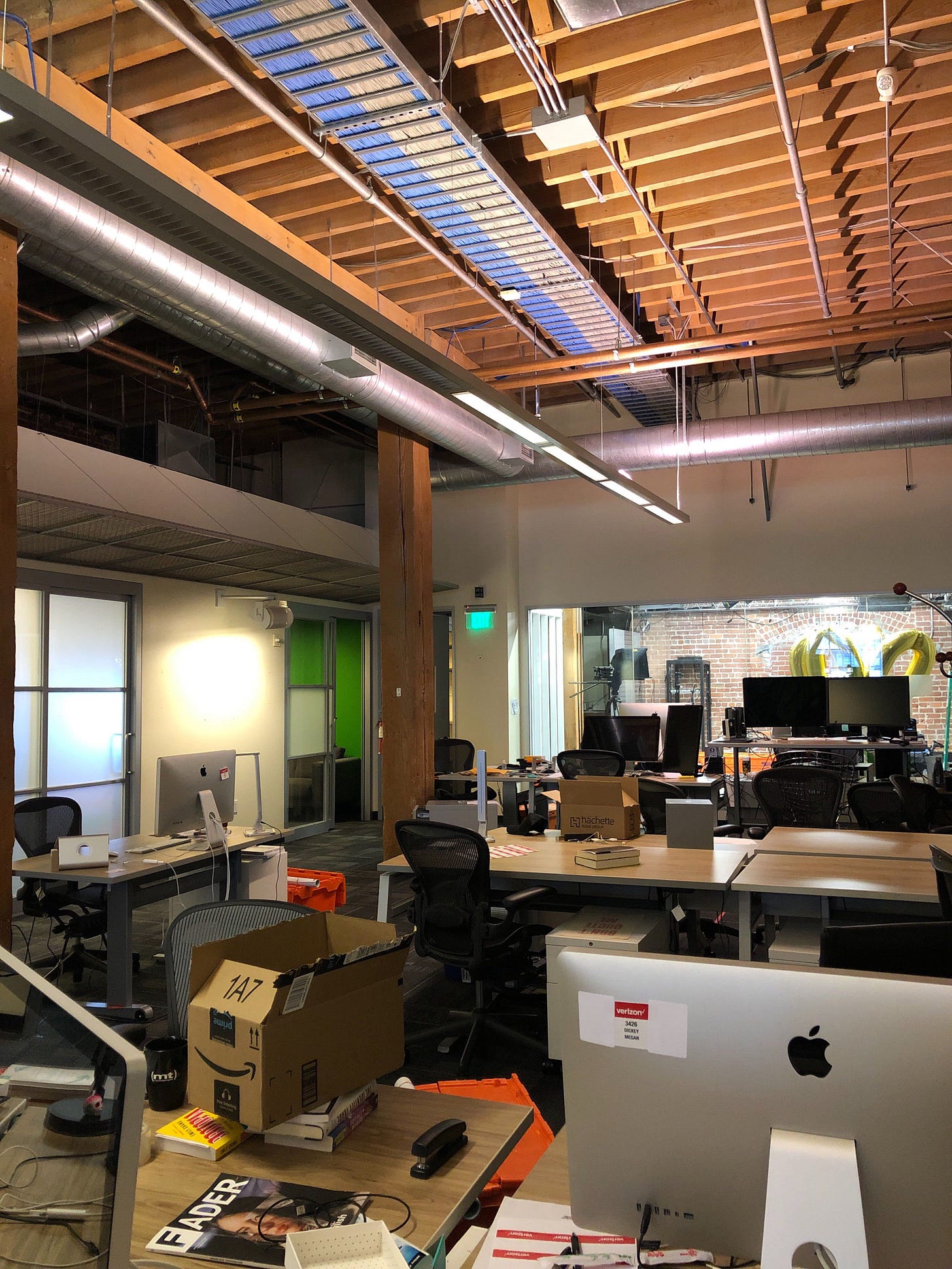 And here's Liza outside of it right before TechCrunch left: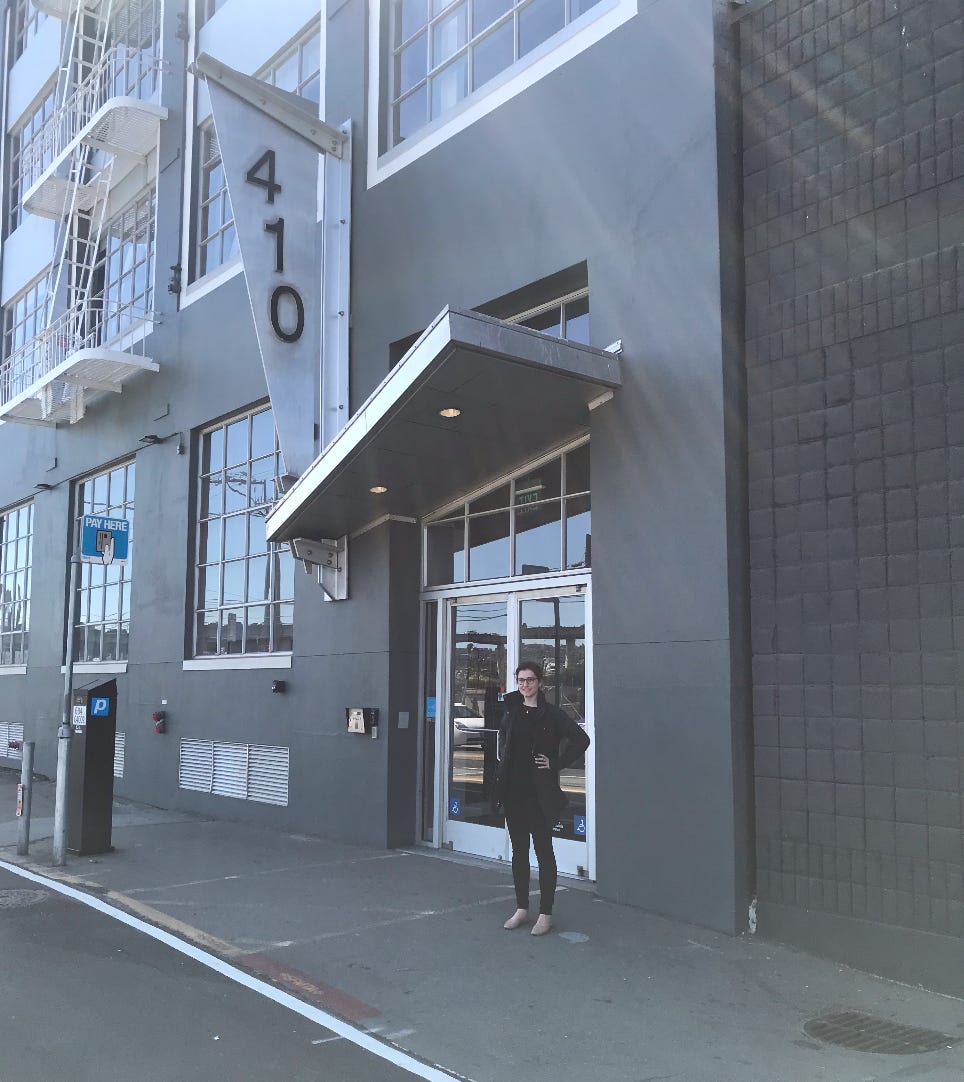 And here's our last guest on the show from the building, someone I've admired a long time: Om Malik!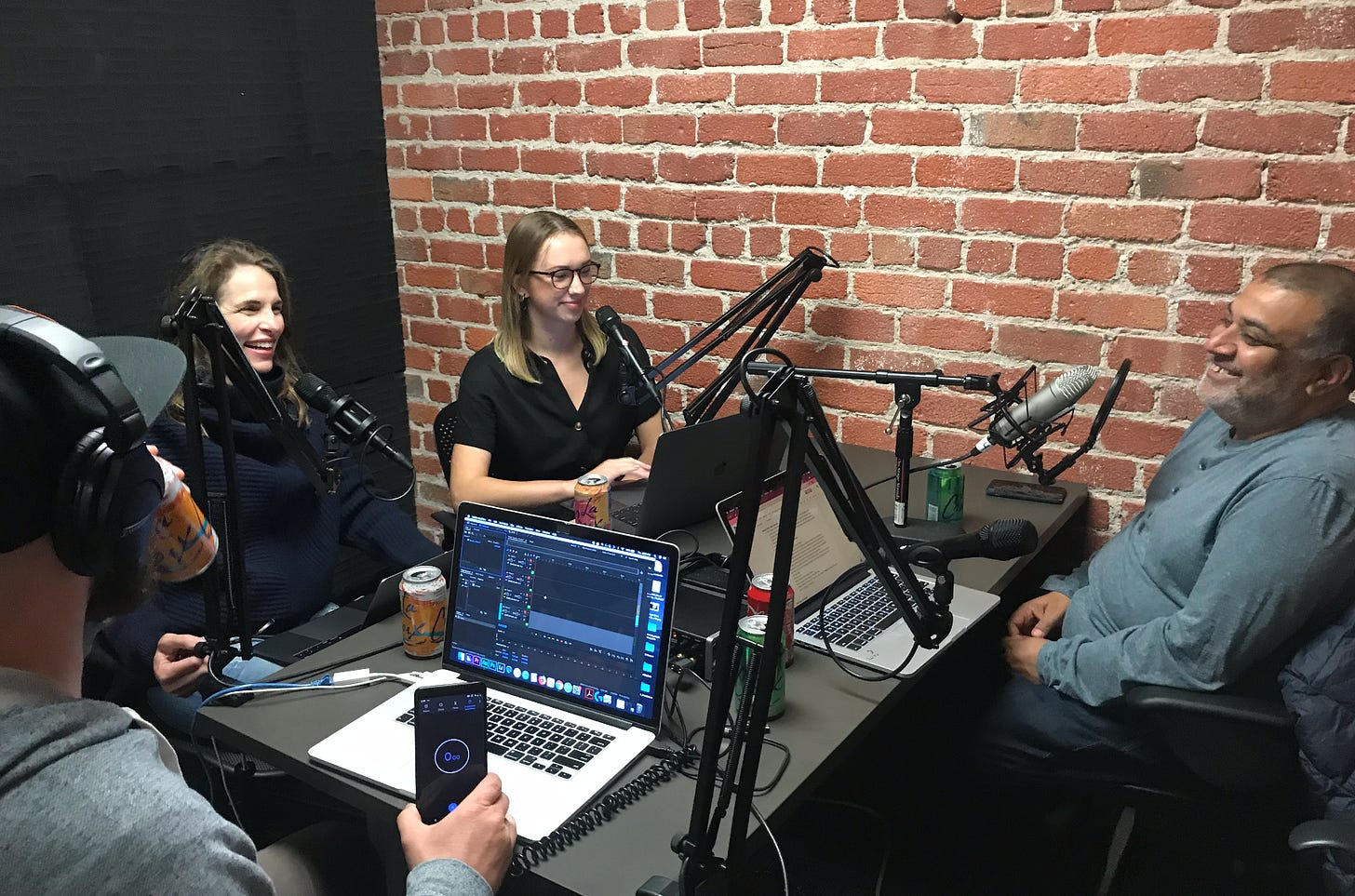 And, my final bit of work in 410: